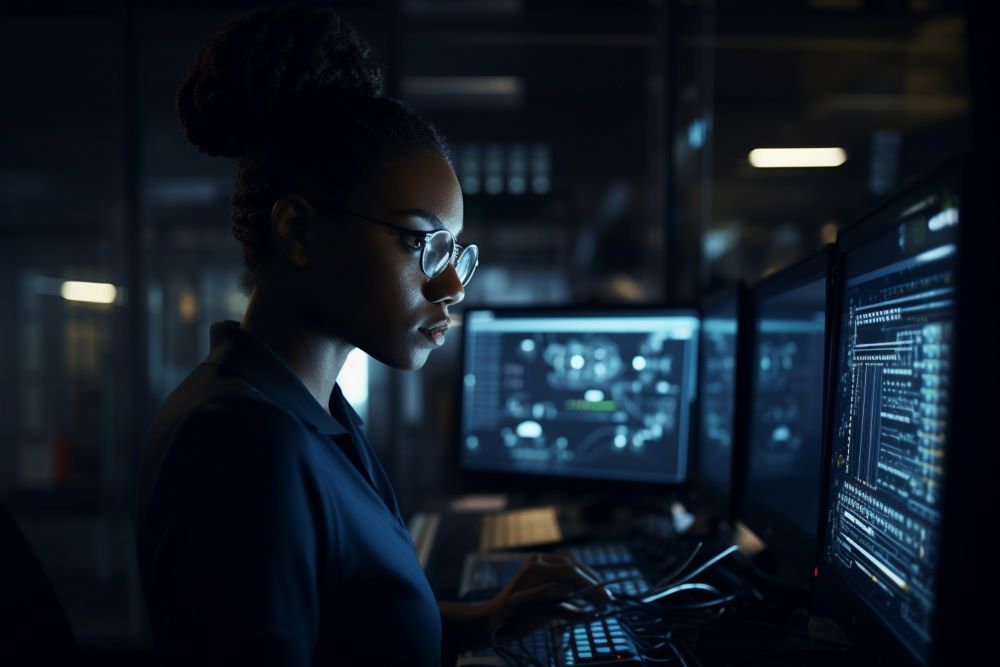 Today's businesses need to be built on solid IT infrastructures. And a systems administrator, also called a system administrator or sysadmin, is key to keeping these infrastructures functioning properly. Who is this IT expert? What exactly is their role, and why are they so vital to keeping a business running smoothly? In this article, our IT infrastructure management specialists plunge into the captivating world of systems administrators.
Get ready to discover why this IT specialist is the true guardian of IT systems' stability, performance and security.
What is a systems administrator?
A systems administrator is a central player any IT department or technical team. From server management and network security, to performance monitoring and managing online backups, they are responsible for ensuring that a company's entire IT system runs smoothly.
Systems administrator responsibilities
A systems administrator will perform varying tasks depending on the size of the company, the context of the position and the specific skills that company's IT infrastructure requires. For example, a sysadmin may:
Install and configure computer workstations, both within the company and for mobile users
Manage the company's IT assets, making sure they operate smoothly and efficiently
Install and update company software. This includes the installation, configuration and maintenance of physical and virtual servers. A systems administrator ensures that operating systems are updated with the latest technology and security patches to guarantee optimal, reliable server operation.
Guarantee system security by implementing protective measures (configure firewalls, manage access identifiers, detect and prevent cyberattacks by reinforcing the cybersecurity of your data). System administrators are constantly on the lookout for new threats and potential vulnerabilities. Various actions can be taken to prevent these attacks, such as penetration tests, etc.
Stay up to date on technological advances and propose the best solutions for your business.
Develop the system to optimize performance and make your IT infrastructure more secure and efficient. Systems administrators use special tools to constantly monitor system performance and identify any bottlenecks and problems. Their goal is to optimize functions for a smooth, responsive user experience.
When a systems administrator's primary function is to manage a network, they are referred to as a network administrator. Sometimes they are responsible for both the network and the system, in which case they are called network and systems administrators.
Systems administrator skills and qualities
To be a competent system administrator, you'll need an in-depth knowledge of various operating systems including Windows, Mac OS, Linux and more. This means understanding the functionalities, commands, and configuration and management procedures specific to each operating system, especially when implementing corporate IT migration. System administrators must master the technical and hardware aspects of computer networks. They need to be familiar with connection protocols, and may even choose to specialize in a specific operating system.
System administrators also need a solid understanding of networks and connectivity, including knowledge of network protocols, network infrastructures, and routing and switching principles. This knowledge is essential for the effective configuration and management of network components.
Systems administrators also need soft skills
As the direct contact between employees and software, the systems administrator must be a good teacher and be able to handle tight deadlines. Versatility and availability are essential, especially when working independently without technical support.
A systems administrator must be able to resolve technical problems quickly and efficiently so that businesses can keep running smoothly, even in the face of unforeseeable issues. Advanced problem-solving, troubleshooting and diagnostic skills are essential.
Sysadmins must also be organized, responsive and vigilant in the face of cyberattacks, keeping a constant watch and keeping informed of new potential threats. They may even have to be on-call to guarantee system continuity and security, day and night.
Systems administrator: an evolving role
The digital world is constantly changing, and the systems administrator's role has undergone a spectacular transformation. Once the guardians of IT infrastructures, system administrators are now forced to adapt, acquire new skills and broaden their scope of action to accommodate the constant evolution of new technology.
"Cloud computing" and virtualization: new skills required
With the development of cloud services and virtualization, system administrators have had to develop new skills. Today's sysadmin needs to know how to deploy and manage cloud-based infrastructures such as AWS, Azure AD or Google Cloud. Resource virtualization requires expertise in technologies such as VMware or Hyper-V.
By adapting to new technologies, system administrators are able to optimize infrastructures in terms of cost, flexibility, and scalability.
Task automation and infrastructure orchestration
The move towards increasingly complex IT environments has led to the automation of repetitive tasks and the implementation of infrastructure orchestration. System administrators need to master automation tools (Puppet, Ansible or Chef) to simplify update management and configuration. They must also know how to orchestrate services and applications to enable consistent, centralized IT resource management.
Integrating security into modern architectures
With cyberattacks and threats on the rise, security has become a major concern for all systems administrators. Integrating security into architecture design is becoming essential. This means:
Installing security solutions such as advanced firewalls and other IT business security solutions
Managing identity and access
Monitoring activities to detect malicious behavior
Groupe SL: by your side for a high-performance digital future
Systems administrators are vitally important for keeping IT infrastructures running smoothly. From managing servers and operating systems to securing data and optimizing performance, system administrators are visionary architects who are responsible for making modern business infrastructures stable and reliable. As technology evolves, this versatile expert is constantly adapting, acquiring new skills to meet emerging challenges.
At Groupe SL, we offer services based on both knowledge and experience. Put your trust in a comprehensive team of IT specialists! Contact us today.