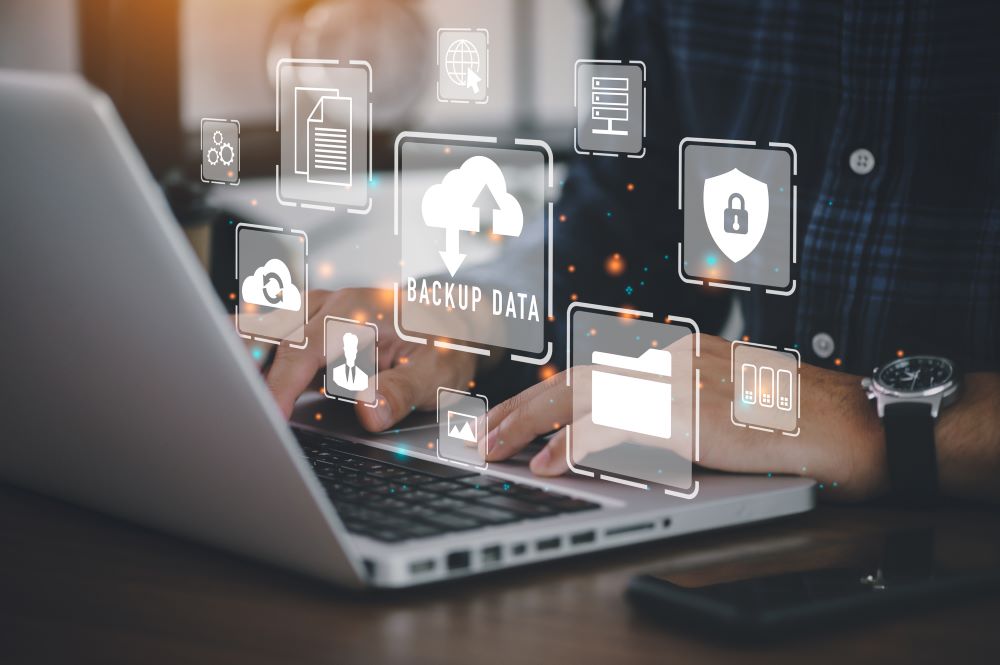 Dive into the complex landscape of data management, where Cloud, multicloud, local, virtual and physical servers intertwine. While our exciting articles on online backup have already shed some light on the Cloud and virtual worlds, there are still a few grey areas to be clarified, such as how all this information is linked. That's where Veeam Backup & Replication, the superhero of workload availability, comes in.
Whether in the cloud with Microsoft Azure and OVHcloud, the virtual worlds of VMware vSphere, Microsoft Hyper-V and Nutanix AHV, or even the solid ground of physical machines with Veeam Agent for Microsoft Windows and Linux, this ultimate solution coordinates backups, restores and replications.
Ready to discover the world of Veeam Backup & Replication? Our specialized IT outsourcing team is here to guide you!
<H2> What is Veeam Backup & Replication?
The power of Veeam Backup & Replication goes far beyond simple backup software. With Veeam, recovery of virtualized applications and data becomes fast, flexible and extremely efficient.
This unique solution combines both backup and replication, revolutionizing data protection and setting a new standard in data backup.
In this way, Veeam goes far beyond a simple backup solution. By leveraging virtualization, storage and cloud technologies, this solution aims to achieve unrivalled recovery time targets. With Veeam, get ready for a whole new backup and recovery experience, where virtualization and the cloud merge to deliver outstanding performance.
<H3> Advantages of Veeam Backup
Veeam Backup & Replication provides total data protection for all virtual, physical and cloud workloads. Offering a cloud-based solution adaptable to business needs, it simplifies the backup of all applications in various cloud environments, surpassing the results of traditional backup.
Key benefits of Veeam Backup & Replication include:
Ultra-fast data recovery
Data loss prevention
Proven protection
Data optimization
Total visibility
The following Veeam products are available:
Veeam Backup Essentials
Veeam Availability Suite
Veeam Backup & Replication
Veeam Cloud Connect
All of these solutions are designed to meet your needs in a variety of environments, whether it's virtual or dedicated servers, the cloud, your physical servers, or even if you need a Veeam Backup solution for Microsoft Office 365.
Veeam Backup & Replication: Main Features
Veeam Backup & Replication provides comprehensive data protection for all virtual, physical and cloud workloads that businesses use. This solution is packed with features to ensure fast, reliable backups. You can:
Easily store backups in a virtual pool
Transfer backups off-site with low complexity and reduced costs
Take advantage of Veeam's restore and replication functionality, which ensures fast, reliable data recovery in all scenarios
1. Backup: your business depends on data availability
Businesses are facing a range of IT and data management challenges. Public cloud integration is becoming essential to data center strategies, raising questions for IT experts about data protection, migration and management between local and cloud environments.
In this context, flexibility is of paramount importance, given that every component of data centers requires protection. That's where Veeam comes in, offering comprehensive backup solutions for your entire operation.
Discover the benefits of Veeam:
Fast, reliable image-based backup with application support.
Leverage unlimited capacity and reduce the cost of long-term data retention on object storage with Veeam Cloud Tier.
Support business applications with Veeam plug-ins for SAP HANA and Oracle RMAN.
Shrink RPOs and accelerate backups to leading storage providers.
2. Integrated data replication for enhanced availability
Ensuring the availability of your organization's key IT data is essential. Cybercriminals are improving their attacks, forcing organizations to come up with new innovations in cybersecurity to protect their data, and the 3-2-1 rule is more vital than ever. It means keeping at least three copies of your data in two separate locations, with at least one copy off-site.
Veeam Backup & Replication simplifies this approach with integrated replication that ensures data is transferred quickly and securely while being backed up. This integrated replication also facilitates Cloud Disaster Recovery (DR) and enables fast, secure Cloud backups using Veeam Cloud Connect in collaboration with a service provider. What's more, the integrated WAN acceleration feature enables fast transmission of backups and replications to external sites.
3. Fast, efficient recovery
Veeam guarantees reliable, ultra-fast recovery of your individual files, entire virtual machines and Application objects. You can rest assured, whatever the recovery scenario, Veeam Backup offers:
Extremely simple restoration of individual files with Instant file-level recovery
Easy portability and recovery to AWS, Azure and Azure Stack with NEW Veeam Cloud Mobility
Fast object-level recovery and e-discovery for Microsoft Exchange, SharePoint and Active Directory
Transaction-level recovery of Oracle and SQL Server databases
Advanced self-service controls
Strengthen your security with Veeam Data Backup and Groupe SL
Whatever your environment – Windows, Linux, Oracle, SAP, AWS or vSphere – Veeam Backup & Replication is the complete data protection software you need. It is simple to use, powerful and efficient, and thanks to its reliability and flexibility, will adapt to your business and lighten your workload.
With Veeam Backup & Replication, you can back up and restore your data anywhere in the world. It protects your mission-critical applications and makes it easy to manage your backups. What's more, you can export it to the cloud to accommodate your data strategy.
If you're interested in Veeam Backup & Replication, contact Groupe SL's team of experts today. They understand your needs and can offer the IT solution that's right for you.