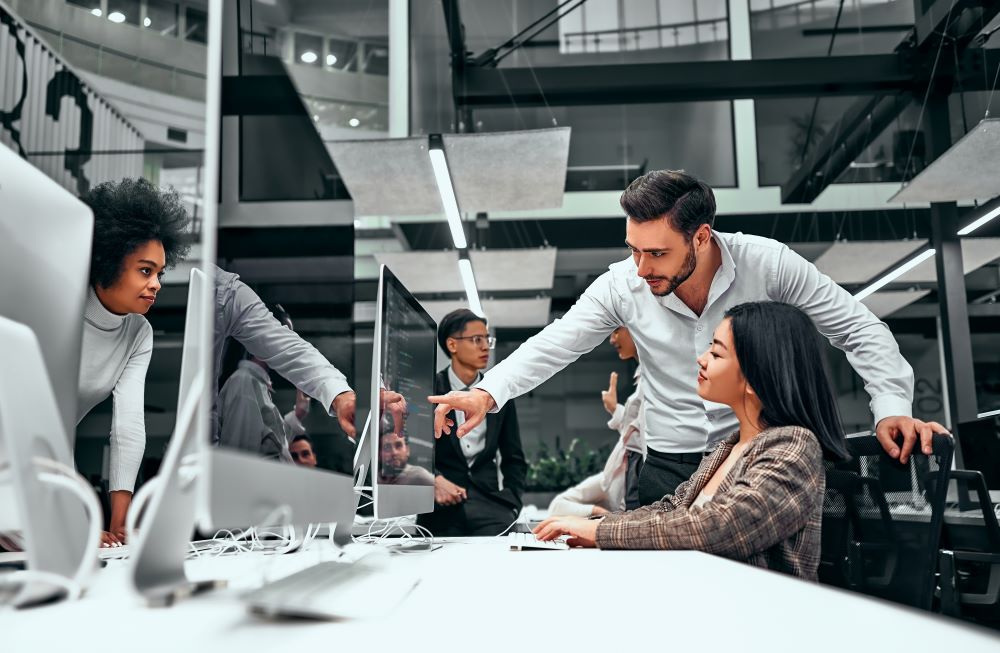 The profession of IT Director has become essential in today's ever-evolving digital age. Beyond simply managing IT systems, this technology expert plays a key role in digital transformation, data security and business process optimization for any company.
In this article, we take a good look at the role of an IT Director and explore the significant impact this professional has on a company's overall performance and success. Groupe SL, an IT company specializing in managed IT technical support and many other services, invites you to discover how an Information Technology Director is responsible for guiding organizations toward a decidedly digital future.
IT director role and responsibilities
An IT Director, sometimes known as an IT Manager or even CIO (Chief Information Officer), plays an essential role within a company. Their main responsibility is to ensure that IT solutions effectively meet the company's needs. They oversee the smooth running of systems, networks, IT infrastructures and applications. In addition, they propose innovative IT solutions to meet company objectives.
In large companies, the IT Director's role is generally more strategic, while in smaller companies it is often more technical.
The IT director's main responsibilities are to:
Supervise IT systems and networks to ensure they function optimally
Manage IT teams, providing them with the resources they need to perform their tasks effectively
Develop and implement technological solutions adapted to the company's needs, taking into account industry best practices
Ensure data security and regulatory compliance by implementing appropriate protection measures and respecting confidentiality standards
Manage and determine the IT budget and resources, optimizing IT spending and efficiently allocating available resources
The IT Director and digital transformation
Digital transformation is about harnessing new technologies to improve business performance. In this process, an IT Director plays a key role in initiating strategic initiatives aimed at integrating digital technologies into all areas of the company. They are responsible for researching and adopting innovative technologies to optimize processes and foster innovation.
An Information Technology Director must keep constantly up to date on the latest technological trends and adapt them to the company's specific needs. They play a crucial role in guiding the company towards optimal use of digital technologies, thereby boosting its competitiveness, productivity and flexibility. They seize the opportunities offered by digital transformation and implement the strategic plans and technological solutions needed to ensure the company's continued success in a constantly evolving environment.
IT Director skills and qualities
The following skills and qualities of an effective IT manager are indispensable for strong leadership and optimal IT project management. Employers are generally looking for:
Experience in the field of information technology
Excellent understanding of systems and network architecture
Good problem-solving skills
In-depth knowledge of information technologies and market trends
Mastery of computer science, including operating systems, programming languages, etc.
Excellent oral and written communication skills
Sharp negotiating and administrative skills
An awareness of cybersecurity issues, with the ability to implement appropriate measures
The ability to anticipate technological developments and integrate them strategically into the company
Proven project management and team leadership skills to ensure objectives are met and resources coordinated.
Furthermore, an Information Technology Director will need to adapt to the professional environment and specific needs of their employer company. For example, to obtain a position as an IT Director in Montreal, it is recommended to be fluent in both French and English to meet local language requirements.
Challenges IT Directors face
IT Directors need to meet many challenges in a constantly evolving technological environment. The IT Director ensures that IT systems run smoothly, promotes innovation and supports business growth. Here are just some of the challenges they may face.
1. Risk management and problem management for IT systems
An Information Technology Director is responsible for managing the risks associated with IT system security, data protection and business continuity. They must implement appropriate security measures to protect company information, monitor vulnerabilities and effectively respond to security incidents.
In addition, they are responsible for resolving technical problems within IT systems and making sure they operate smoothly.
2. Adapting to rapid changes in the technological environment
Information technology is evolving rapidly. New innovations and trends are constantly emerging, such as cloud computing and Cloud hosted solutions, artificial intelligence, the Internet of Things, and so on.
An IT Director needs to keep constantly abreast of technological advances relevant to their company, and assess how they can be used. They must be able to make strategic technology decisions and implement initiatives to take advantage of new opportunities.
 3. Collaboration with other departments
An Information Techology Director must collaborate with the company's other departments, understanding the specific needs of each department and working closely with them to develop appropriate IT solutions.
This involves establishing partnerships, facilitating communication and promoting technological innovation within the organization. The IT Director must also ensure that IT systems effectively support business processes and contribute to improving the productivity of the company as a whole.
Entrust your IT management to experts like Groupe SL!
A company's IT Director makes sure that IT systems function smoothly and responds quickly to technological improvements. IT management is crucial for business success.
Groupe SL is a specialist in IT outsourcing in Quebec. We offer in-depth technology expertise and support companies in managing their infrastructure, implementing appropriate solutions, ensuring data security and managing resources.
And if you're an IT professional ready to take on new challenges, take a look at our job offers. Contact us if you would like to join our company and contribute to our success!