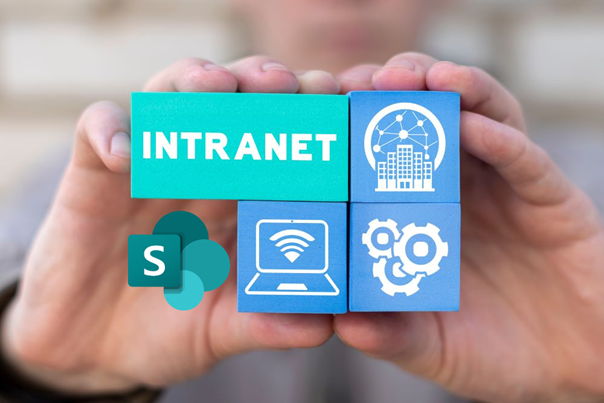 Welcome to the world of Enterprise Collaboration 2.0, where the limits of time and space are eliminated and teams can work smarter. Want to energize your business, boost productivity and unleash your teams' potential? The solution is just a click away: the creation of a high-performance intranet using SharePoint.
Our IT outsourcing specialists take you through the key steps involved in setting up an intranet with plenty of content that is truly relevant for employees.
What is an intranet? SharePoint basics
An intranet is an internal site that only your company has access to. Ideally, it provides employees with a wealth of valuable information and resources by bringing together news, announcements, guides, procedures, calendars, events, and collaboration and communication tools.
With content management tools like SharePoint, creating and managing a content-rich intranet becomes easy. By migrating to SharePoint Online, you can facilitate collaboration while benefitting from even greater document and file security.
SharePoint features that optimize intranet performance
Developed by Microsoft, SharePoint is a content management platform that offers key features aimed at fostering collaboration within an organisation. It transforms the way teams share information and work together. Here are some of SharePoint's main benefits:
Document management: Store, organize and manage documents, giving employees rapid access to the information they need.
Team sites: Create team sites dedicated to specific projects or departments, encouraging collaboration and information sharing within these groups.
Workflows: Automate business processes, improve efficiency and track tasks.
Advanced search functions: Search and retrieve specific information easily within the intranet.
File sharing and synchronization tools: Make it easy to share files with other users, both inside and outside the organization. SharePoint also offers synchronization options for accessing files from any device without having to use a virtual private server (VPS).
It should also be noted that access to computer data is secure both at user level, thanks to dual authentication systems, and at device level.
Next, let's take a look at how to set up an effective intranet using SharePoint.
Best practices for creating a high-performance intranet with SharePoint
When it comes to creating a high-performance intranet, SharePoint is a powerful and versatile solution. This IT collaboration and content management tool is specifically designed to meet the needs of businesses for internal communication, resource sharing and team collaboration.
By leveraging SharePoint's advanced features, you can create a customized intranet that promotes productivity, enhances collaboration and provides employees with a user experience that is rich in relevant content. Here's what you need to consider when setting up SharePoint.
1. Define the goals of your intranet
To identify what you want your intranet to accomplish, follow these key steps:
Think about what you want to achieve with SharePoint
Be specific in formulating your objectives
Prioritize your goals
Make sure you also identify your company's communication and collaboration needs by assessing existing gaps, consulting stakeholders and analyzing current processes. SharePoint can help you improve business functions on many levels.
2. Involve employees in the creative process
To ensure the success of your intranet, it's crucial that employees be actively involved in the creation process. Employee experiences and needs are invaluable in shaping an intranet that truly meets expectations.
Organize feedback sessions where you solicit employee opinions on the features, collaboration tools, navigation and resources available through SharePoint. Listen carefully to suggestions and ideas so you can identify priorities and set up the most useful functions.
By incorporating employee ideas, you show them that their contribution is valued and that their needs are taken into consideration, encouraging them to make use of your new intranet.
3. Organize your intranet content
To make your SharePoint intranet as user-friendly and effective as possible, use clear titles and relevant keywords. Attention to details like this will make it easier for employees to find and access information.
Simplify navigation by avoiding a complex site hierarchy. Ensure that the navigation structure is consistent across all intranet pages to make it easier for users to find their way around – this is especially important for remote workers. Intuitive navigation improves employee productivity and user experience on your SharePoint intranet.
Tip: Use no more than 5 sub-folders for each element of your menu, and keep the structure of your site simple.
4. Identify and train key personnel
When creating a high-performance intranet, it's essential to appoint a team of people who will be responsible for managing and updating content. Depending on the type of content, different employees may be involved. For example, the human resources manager could be responsible for updates to internal policies, while a member of marketing could manage news and announcements. These collaborators must be trained and have the necessary resources.
In addition, we recommend establishing clear editorial guidelines to ensure content consistency and quality. These guidelines set standards for style, tone and format that all intranet content must meet. You could also create an editorial committee to encourage a constructive exchange of best practices and guarantee some continuity if any key contributors leave or are replaced.
5. Make regular intranet updates
To keep your intranet useful and relevant, it is important to:
Keep the intranet up-to-date: Establish a schedule of regular updates to ensure that content remains relevant and useful to users.
Publish new announcements regularly: By keeping employees informed, you foster internal communication and reinforce a sense of belonging within the company. Announce upcoming events, organizational changes, success stories or important initiatives.
Delete obsolete resources.
7. Track intranet use with analytics tools
Analytics tools are essential for evaluating how your intranet is used. By analyzing data, you can identify popular pages, topics of interest and areas for improvement.
With the right information, you can make informed decisions and continually improve your intranet to deliver a better user experience, boost employee engagement and maximize the benefits for your business. Analytics tools are a valuable investment when it comes to effective intranet management.
Call on Groupe SL for a successful migration to SharePoint Online
Optimize communication, collaboration and access to information with a high-performance intranet. SharePoint makes it possible to create a centralized space for your employees where you can promote productivity and share knowledge.
As an experienced Microsoft 365 partner, Groupe SL offers personalized support in migrating your file servers to SharePoint Online.
Benefit from our expertise and training to fully exploit the functionalities of your new intranet. Contact Groupe SL for a trusted partner that can help you maximize intranet benefits for your business.
Need IT services for your company in Québec? Contact-us now!