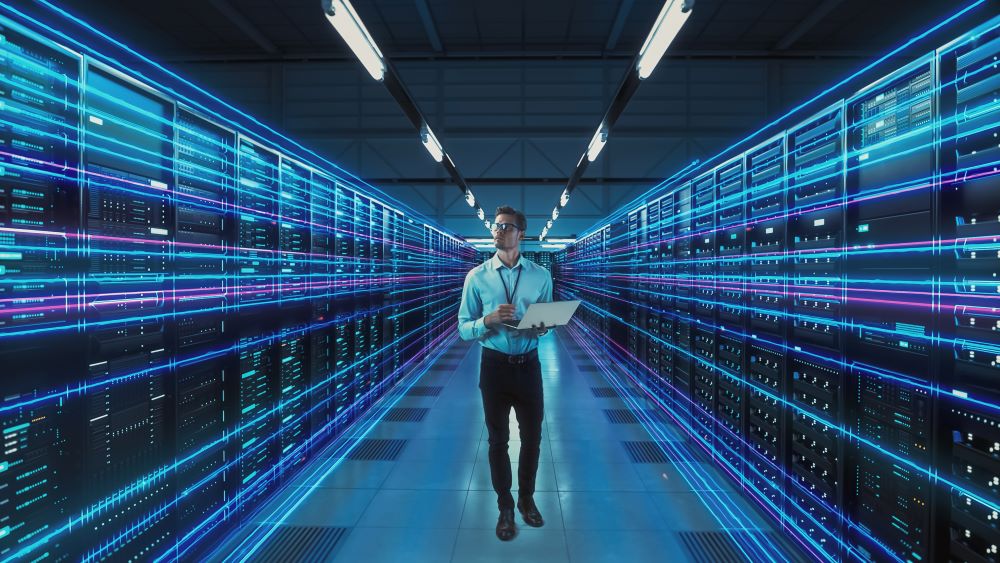 Have you ever wondered what IT technicians actually do? This profession may seem a little mysterious, but it is vital in the world of information technology. Computer technicians perform technical and user-centred tasks on a daily basis to keep your operations running smoothly.
As businesses become increasing dependant on technology, IT technicians are necessary to keep computer systems running smoothly. Join our technical support experts as they explore the various functions an IT technician can perform within a company, as well as the responsibilities they assume on a daily basis.
What is an IT technician?
An IT technician, also called a computer technician or IT support technician, has a crucial role within an organization. Their job is to maintain, manage and support computer systems and resolve any related problems. Working closely with technical teams and end-users, they ensure that IT infrastructures function smoothly.
Whether in a company, a government institution or any other organization using IT, it is a computer technician's responsibility to guarantee that systems run smoothly, remain secure and comply with industry standards. The IT technician's role is crucial to creating and maintaining an efficient, stable working environment.
IT technician duties and responsibilities
A computer network technician is indispensable for maintaining IT systems. Large organizations can choose between hiring an in-house technician or calling in specialized IT professionals from an outside source.
A successful IT technician needs more than just technical know-how. Let's take a look at the technical and non-technical skills IT support technicians need.
System installation and configuration
One of the main tasks of a computer technician is to install and configure IT systems.
This includes installing both software and hardware, which involves setting up and checking the compatibility of the components needed to keep the computer system running smoothly. Tasks include:
Installation of operating systems, applications, drivers and peripherals
Customization of settings
Creation of user accounts
Configuring access rights and implementing security measures
The computer technician will also make sure that various elements of your systems are linked so that your organization can benefit from efficient collaboration between users, effective information sharing and optimized work processes.
Maintenance and troubleshooting
An essential aspect of an IT technician's role is computer maintenance and problem solving. They monitor systems, carry out diagnostics and solve technical problems to make sure information technology systems operate smoothly.
Your IT technician will ensure that systems are available, secure and up-to-date to minimize interruptions and potential problems. They implement preventive maintenance procedures such as regular cleaning, data storage management and performance monitoring to prevent breakdowns and optimize system functions.
They also repair faulty hardware, resolve software problems, manage data backups and protect against security threats. To do all this, an IT technician uses IT troubleshooting tools such as diagnostic software (e.g. Endpoint Detection and Response), virus scanners and repair tools to resolve common problems. Where necessary, they work with specialists or external suppliers to obtain further assistance.
Technical support and assistance to users
The IT technician is often the first point of contact for users encountering technical problems. They provide technical support by answering questions, guiding users and resolving problems. An IT support technician needs patience, good communication skills and the ability to explain technical concepts in a clear and understandable way.
System updates and technology watch
Technology evolves rapidly, and it's crucial that IT technicians stay up to date on the latest advances. This means keeping abreast of the latest trends, new technological solutions, and software updates. Thanks to their combined knowledge of technology and business needs, an IT technician can propose appropriate solutions to improve the performance, security and reliability of computer systems by:
Assessing needs
Researching new technologies
Testing potential solutions and recommending necessary upgrades
Planning and coordinating upgrades while minimizing disruption to users
Rigorous monitoring, the key to optimal IT system management
To ensure effective systems management, an IT technician must maintain accurate documentation. This involves keeping a detailed inventory of equipment, creating installation and troubleshooting procedures, and documenting system configurations and modifications. This documentation is vital to future maintenance, troubleshooting and user training.
How to become a computer technician
To become an IT technician in Montreal, you can start by completing a college-level technical diploma in computer science (DEC). You will also need to continue your training by taking specialized courses and obtaining relevant professional certifications. Note that employers looking to recruit skilled IT technicians put a high value on Microsoft 365 certifications.
Ready for the challenge of working as an IT technician at Groupe SL?
IT technicians are responsible for Bas du formulairemaintaining stable, high-performing computer systems. Whether for installation, maintenance, problem resolution or user support, an IT technician will be a definite asset to your company.
If you're looking for managed IT services and qualified IT support, turn to Groupe SL. Our IT technicians work closely with IT teams to ensure that your computer systems run smoothly.
Contact us to find out more about our career opportunities or to benefit from quality technical support. Make the right choice and offer your company the IT expertise it needs!