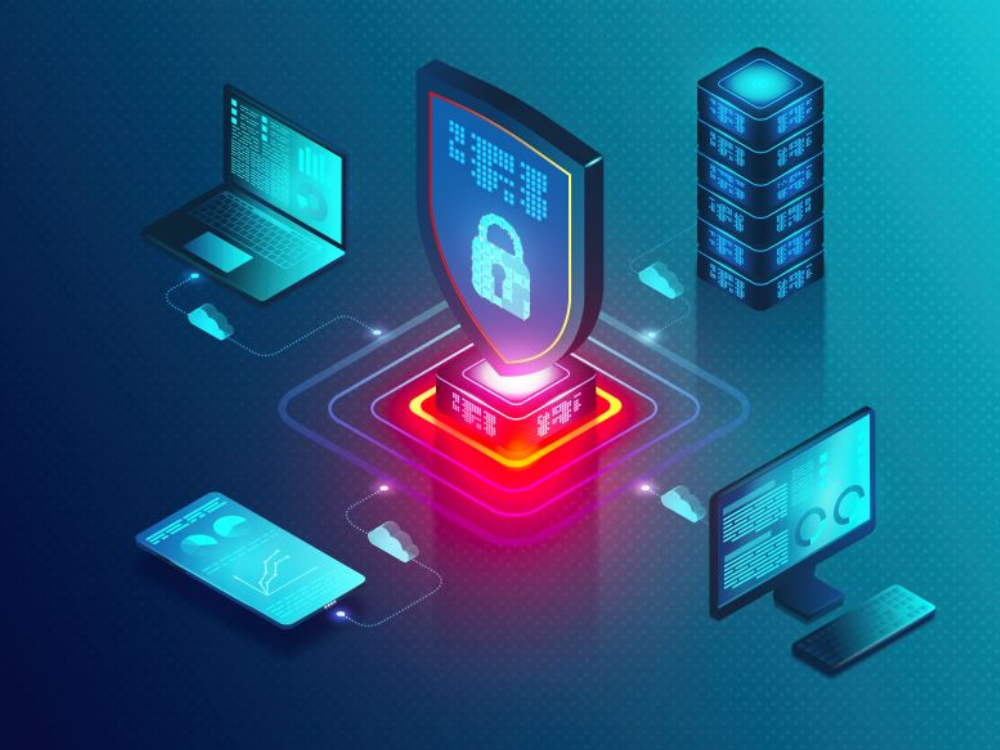 Corporate security is a major concern for executives in every field. Cybersecurity threats are becoming increasingly sophisticated and can lead to disastrous consequences for an organization.
To address these threats, many companies are looking for effective and reliable security solutions. Enter EDR!
What is EDR?
Endpoint Detection and Response (EDR) refers to a category of security solutions that detect and neutralize suspicious activity within an organization on endpoints such as desktops, laptops and mobile devices.
The term was first used in 2013 by Anton Chuvakin, an analyst at Gartner, to describe new and emerging platforms that enable IT security auditing and a more in-depth analysis of suspicious activity.
This type of IT security makes it possible to detect advanced threats and zero-day attacks (vulnerabilities or errors recently detected in your systems, not yet known to your antivirus software) at the endpoints of a given network.
Unlike traditional antivirus solutions, which focus on detecting known malware, EDR relies on behavioral analysis techniques to identify suspicious user and application behavior.
How does Endpoint Detection and Response work?
EDR operates via three main functions:
Data collection: Completed in real time from every terminal in a company, providing a complete view of the environment.
Data analysis: Data is analyzed using machine learning algorithms to identify abnormal behavior and indicators of compromise (IOCs).
Incident response: If a security incident is detected, EDR can trigger an automated response to neutralize the threat.
Why is EDR important for business security?
Security is a critical issue for businesses that need to protect confidential customer and employee data in addition to strategic information.
Unfortunately, security threats are becoming increasingly complex, making them progressively harder to detect. Attacks such as advanced persistent threats (APTs), malware, ransomware and phishing attacks are on the rise and pose a constant threat.
EDR is an effective business security solution. It monitors a system continuously to quickly detect suspicious activity and prevent attacks. EDR provides real-time visibility of an entire business network, making it possible for security teams to identify vulnerable areas and take proactive steps.
How to deploy EDR
Effectively deploying EDR in your organization can be complex, but an EDR solution is essential to strengthen your security and protect your business from the latest threats.
Before deploying EDR, we recommend that you:
Assess your business needs: It is important to understand the security needs of your specific business. Note that there are companies that provide technical support services to assess an organization's IT needs.
Research EDR solutions: There are many EDR vendors on the market. Do your research to find the right one for you.
Test the EDR solution: Before deploying the EDR solution across your entire system, we recommend running pilot tests to minimize risk.
Train employees: Once the EDR solution is deployed, businesses should train their employees to use it. This can include learning to understand and report security alerts.
EDR vs Antivirus software: the benefits of EDR for business security
An EDR solution offers several benefits for business security over antivirus software. First, unlike traditional security solutions, EDR makes it possible to detect and respond to threats in real time to enable a quick and effective response.
EDR provides increased visibility of endpoint activity, leading to better understanding of user behavior and easier detection of anomalies.
Compared with other security solutions, EDR provides more comprehensive and proactive protection based on endpoint behavioral analysis.
Finally, EDR can be integrated with other security solutions to provide even stronger protection and complete visibility across a given network.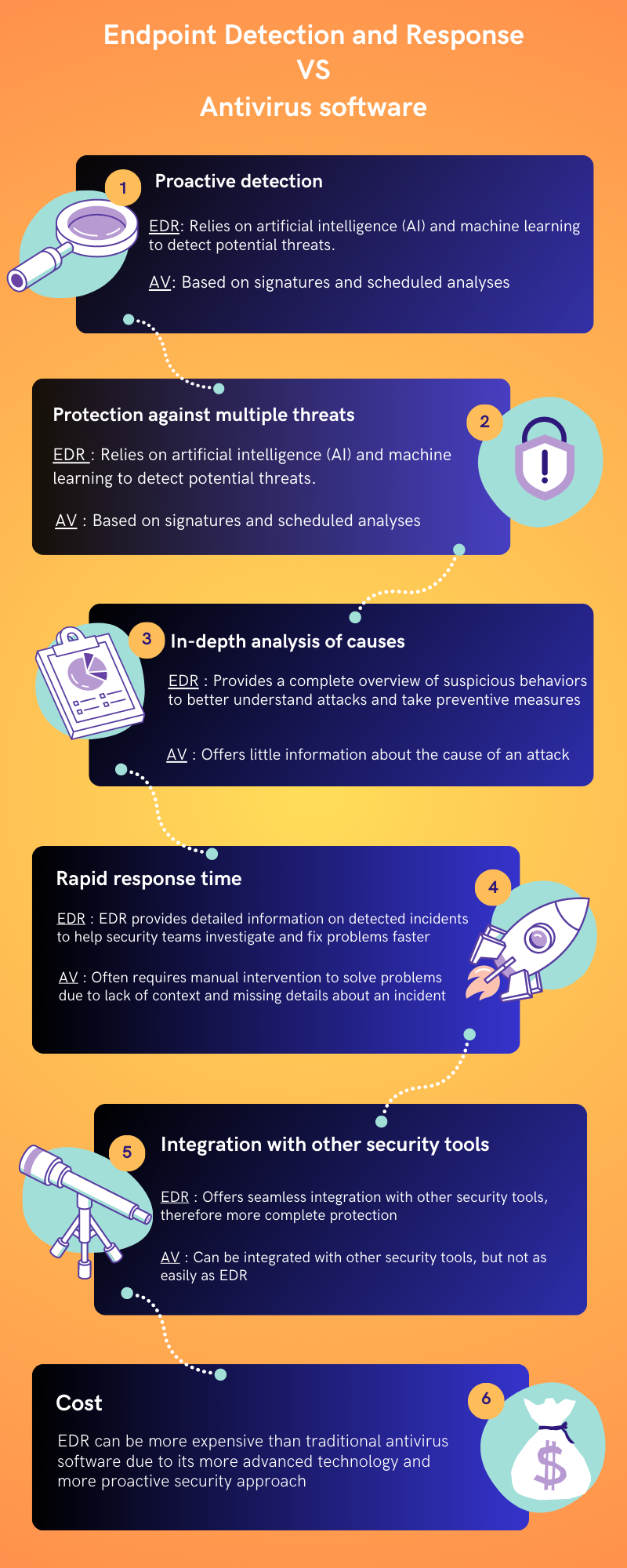 Types of Endpoint Detection and Response solutions
It is important to note that there are many EDR solutions on the market and this list does not include them all:
CrowdStrike Falcon
Carbon Black Defense
SentinelOne
Cybereason Endpoint Detection and Response
FireEye Endpoint Security
McAfee Endpoint Security
Symantec Endpoint Protection
Trend Micro Apex One Endpoint Security
The 3CX software cyberattack: lessons for fighting virus and malware threats
As of March 29, 2023, an ongoing cyberattack campaign was discovered targeting 3CX software, used for business communication and collaboration. Two EDRs were responsible for the detection: SentinelOne and CrowdStrike.
Attackers infiltrated the 3CX software by compromising the company's supply chain process, a technique commonly used by cybercriminals to distribute malware on a large scale. According to SentinelOne and CrowdStrike, the attackers allegedly relied on sophisticated techniques to hide their malicious activity and avoid detection – using stolen digital signatures to fool security software and prevent the malware from being detected.
The cyberattackers used phishing techniques to trick users into downloading and installing a malicious version of the 3CX software. They used a Trojan called "SmoothOperator" to infect and distribute the software to thousands of companies. This type of attack is particularly dangerous because it has the potential to compromise many organizations at once, resulting in both data loss and financial damage.
The attackers also attempted to hide by deleting event logs and using obfuscation techniques, which did not escape detection by the SentinelOne and CrowdStrike EDRs.
Researchers from these two EDRs are working closely with authorities to counter the cyberattack and have released recommendations to help companies protect themselves, including:
Regular software updates
Continuous monitoring of suspicious network activity
Implementation of robust security measures to protect systems and data.
Supply chain and hacking attacks underscore the importance of early detection, vigilance and preparedness to counter sophisticated cybersecurity threats. Effective business security tools like EDRs are critical in these situations.
Protect your business from cyberattacks with EDR
EDR cybersecurity software offers significant advantages over traditional antivirus solutions. An EDR solution uses artificial intelligence and machine learning to detect potential threats, providing broader protection and deeper cause analysis which allows organizations to react more quickly to threats and adapt their security processes accordingly.
If you are considering deploying EDR in your organization, it is important to choose the right vendor and take appropriate steps for effective implementation. Contact Groupe SL and our IT outsourcing specialists will advise and support you throughout the process.
Need IT services for your company in Québec? Contact-us now!