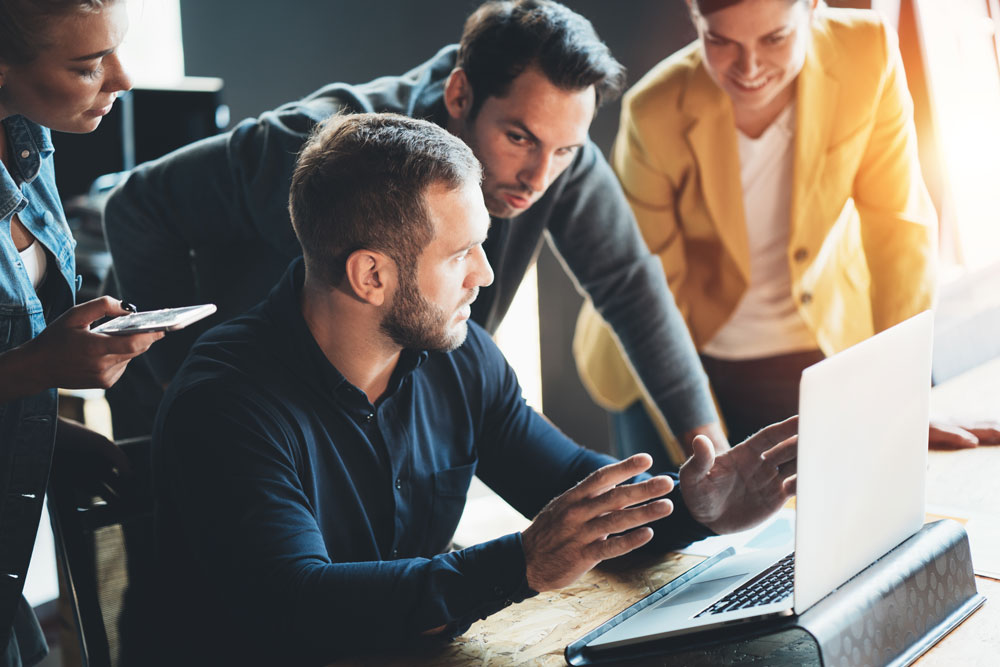 You may already have practiced project management or at least have an interest in doing so. However, keep in mind that "traditional" project management is very different from information technology (IT) project management.
As specialists in IT outsourcing for businesses, we are particularly proud of our IT project management services. Join us as we look more closely at the distinctive challenges and characteristics of IT project management.
What is IT project management?
A project is like a temporary business venture that aims to create a unique product or outcome. It begins with the start-up phase, which is followed by planning and execution, and eventually control and closure. Project managers, often with multidisciplinary skill sets, are the people who manage these ventures from A to Z.
IT (information technology) project management is the general term for the set of activities aimed at organizing, planning, coordinating and controlling the human, material and financial resources required to carry out an IT project. Tasks must be completed within given deadlines and budgets while respecting the requirements and needs of the clients.
Successful project completion often involves the collaboration of various professionals including developers, IT specialists, system and network administrators, analysts and project managers.
At Groupe SL, our specialists can accompany customers in the migration of local servers, cloud hosting or security optimization. We can mobilize a multidisciplinary team that will ensure the success of your projects.
IT project management: a complex and often misunderstood field
The complexity of project management in the information technology sector is often underestimated. Although a business manager with solid IT expertise may find it easy to implement an IT cloud hosting solution, the majority of executives are not familiar with this subject and will therefore not able to accurately measure the scope of the work to be done.
Implementing an IT system is a complex and far-reaching task that requires meticulous IT project planning and rigorous project management.
Trusting the knowledge and expertise of an IT outsourcing specialist can be the best way to guarantee a company's development and success.
An IT project manager needs the right skills
In the field of IT project management, a competent manager must have the skills to cope with the constant evolution of technology.
For an IT project manager to successfully complete a project, they must:
Have technical knowledge in IT: Solutions need to be kept up to date and to remain efficient over time, which means managing technology updates. This guarantees optimal system use and avoids unnecessary maintenance and upgrade costs.
Master project management skills: An IT project manager must also have strong project management skills so they are able to plan, organize and direct all stages of a project. This includes defining objectives, creating schedules, managing a budget, managing risks and resources, and managing stakeholder relationships.
Understand the special characteristics and challenges of the client's field of activity in order to be capable of proposing the best solution, adapted to each client's needs and expectations.
Have communication and leadership skills: An IT project manager must be able to communicate effectively with team members, stakeholders and customers. They must also possess the necessary leadership skills for motivating and directing their team.
Perform quality and risk management: Quality and risk management are important elements of a successful IT project. IT project managers must verify that results meet a client's expectations, and anticipate problems such as delays or technical issues.
Be familiar with problem-solving methods: IT project management often requires solving complex technical problems. Managers must know how to use effective problem-solving methods, such as the Kepner-Tregoe method or root cause analysis (RCA). They must also be able to collaborate with technical team members to find viable and effective solutions.
Use planning and tracking tools: IT project management involves using planning and tracking tools to meet deadlines and make sure deliverables meet quality standards. Project management software such as Planner in Microsoft 365 or Trello allow you to plan project activities, assign tasks to team members and track project progress. Tracking tools are also useful for measuring project performance and profitability.
Experienced professionals like Groupe SL can take on these types of complex tasks and provide you with every advantage for the successful completion of a project, or the efficient implementation of managed IT services.
Challenges of IT project management
Companies can face real difficulties when it comes to IT project management. IT project managers must cope with unique challenges, including:
A complex mandate, a direct result of the technical nature of the required solutions
The rapid evolution of technology, which can be problematic since solutions can quickly become obsolete
Stakeholder management, which can include managing end-users, company executives, technology providers, shareholders and customers. IT project managers must consider the needs of all stakeholders during project planning. Regular, clear communications are essential at all times
Security and privacy management: IT project managers must guarantee data security and privacy in accordance with industry standards and regulations
Choose an IT project manager who delivers
If you need help managing your IT projects or facing related management challenges, turn to Groupe SL. Our IT project management professionals can help you implement tools, methodologies and key competencies to guarantee the success of your projects. We can also assist you in managing the security and confidentiality of your sensitive data.
Contact Groupe SL today to learn more about our services and how we can help you meet the challenges of IT project management.
Need IT services for your company in Québec? Contact-us now!