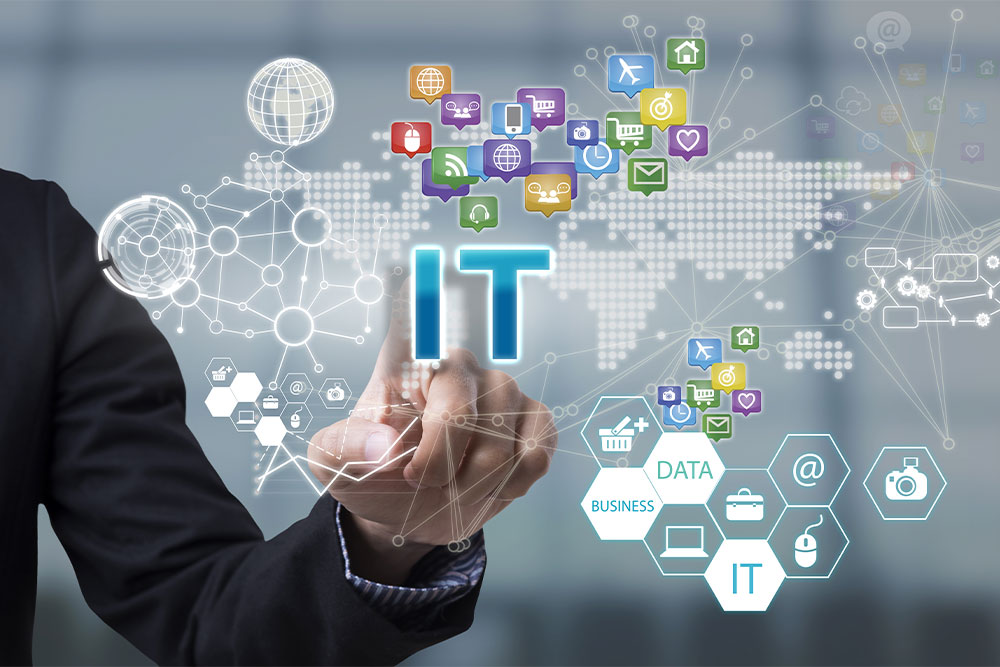 For small and medium-sized businesses as well as for large companies, it is common to hire an IT services provider for your business needs. Being able to benefit from the expertise and support of a professional IT company is essential.
Before committing to an IT services company, several factors must be considered to make the right choice!
To guide you in your research, Groupe SL's IT experts explain how to choose an IT services provider.
Determine your IT service needs and budget
Before you start looking for an IT service, define your needs and your budget. It is a crucial step to take because not all businesses have the same IT services needs let alone the same infrastructure.
Maybe your business would benefit from technical support for your day-to-day operations? Maybe you're looking for IT infrastructure management and want to benefit from cloud services? Depending on the size of your company, your needs will define what IT services you need.
With these needs in mind, set time to establish your budget. Maybe your business is growing and you need to factor this into your IT services budget? Maybe your business is scaling e-commerce and you need dedicated technical support for this aspect? Setting a budget is important for establishing goals and priorities with your IT provider.
What to consider when choosing an IT service provider
Now that you have defined your IT service needs and you have your projected budget, its time to start your research.  Here are the different factors to consider when choosing an IT service provider.
Expertise
The first step in choosing your IT service provider is to make sure they have the expertise to meet your business needs. This is easier said than done. So how do you go about it?
The best way is to talk directly to the IT service provider. You can tell them about your structure, IT systems, challenges, budget and service needs.
Ultimately, the IT service provider you choose should be familiar with your industry and similar technological environments. They should also offer the right managed IT services for you.
Availability
IT outages can be costly to a business. They occur without warning and partially or totally paralyze business activities until systems are restored. The more available an IT service provider is, the more reactive it will be to these scenarios.
When choosing an IT company, always consider their availability. Ideally, your IT service provider should offer you 24/7 technical support and be able to respond at all times for queries and maintenance.
Your IT service provider must be able to respond quickly to any problem. Ask the company about its response times and support options.
Project management
It is important to consider the project management that is offered by the IT service company. Ask the provider if they have project managers or not. This is a major advantage for your business, especially if it is a large-scale undertaking that requires strategic IT planning.
A single point of contact, such as a dedicated project manager, will help facilitate communication between you and the company that manages your IT assets. This single point of contact will ensure more efficient and direct communication with the team and everyone else involved. A dedicated project manager will also be more familiar with your business and its needs. Don't overlook this when choosing your IT provider!
A project manager will be able to offer you scheduled meetings, regular follow-ups and strategic blueprints that will ensure the performance and efficiency of your company over time.
Need IT services for your company in Québec? Contact-us now!
Security
Cybersecurity threats have never been more prevalent than they are today. It is important to work with an IT company that has state-of-the-art data security protocols.
In the event of a potential security breach, your IT service provider must be able to respond quickly and effectively. They need to be resilient against potential cyberattacks and prevent them, including with online backups beforehand.
One way to ensure this is to ask the IT company if it has cybersecurity experts and what IT security measures they have in place.
Positive customer feedback
A sure-fire way to evaluate the quality of your IT company is to look at the reviews and recommendations of customers who have done business with them in the past.
You can read the reviews on the company's Google Business Profile. You can also directly contact the companies that have done business with the provider to get their feedback.
Feedback is a great way to determine the real expertise and quality of service offered by the IT service provider.
Price
Finally, it goes without saying that price is a key factor for your business. Price can vary depending on the expertise of the IT outsourcing company and the services offered. Find out if their price range seems fair and fits your budget.
We recommend that requesting different quotes from various IT companies to compare them. This will help you make an informed decision.
Remember, no two IT service providers are the same and they will charge different rates. Then it's up to you to decide which company is the best fit!
Groupe SL is your trusted IT partner in Quebec
Figuring out who to entrust with outsourced IT management is no simple task.
Whatever its size, your company requires a quality IT service. At Groupe SL, we offer you a turnkey IT service with the highest level of quality and service. Whether it is for our managed IT or our cloud services, we always offer customized solutions that will meet your needs.
Contact us now to work with the best IT company in Quebec. Our team of experts will happily help you find the right IT services that fit your business. Ask our team for a free quote! 😉