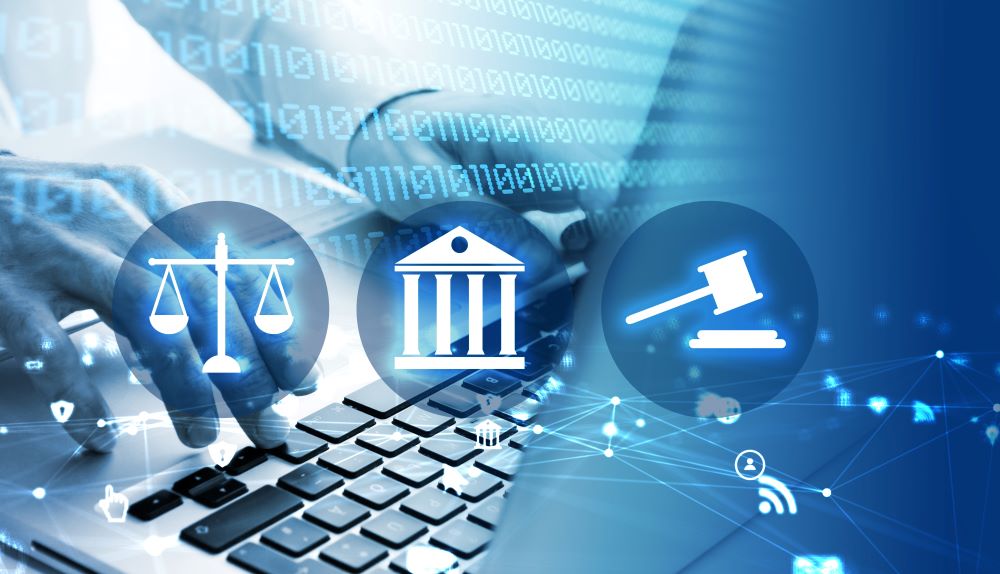 Legal professionals collect and store a vast amount of sensitive data about their clients and their activities. As a result, the computer systems at law firms typically contain a wealth of information that should never be disclosed or fall into the hands of people with nefarious motives.
Since a good deal of this confidential data is protected by law, law firms would be well advised to make cybersecurity a priority.
Not sure where to start reinforcing the security of your IT infrastructure and protecting your data? Not to worry, our managed IT services and cloud solutions specialists have decided to share a few of their best cybersecurity tips for the legal field.
Secure your network access
If you don't take steps to secure your law firm's network, cybercriminals will have easy access. Use antivirus software, firewalls, malware scanners and any other technology you can to keep your network secure.
It's also a good idea to use two-factor authentication to limit access to your databases and applications. This requires every user to provide two pieces of proof that they are authorized to access the network. Two-factor authentication is much harder for cyberattackers to bypass than just a password.
If possible, consult an experienced IT outsourcing company for advice on the best strategies and tools you can use to ensure that your network is well protected against cyberattacks.
Encrypt your communications and sensitive data
Stolen laptops and intercepted business communications are major causes of confidential information leaks, particularly in the legal field. Encryption is a relatively simple and effective cybersecurity strategy that can protect your sensitive data in such situations.
Encryption essentially involves translating data stored in an email, local hard drive, web browser or cloud application into a secret code that then requires a key or password to decrypt. If a stolen computer or device is encrypted, the thief will not be able to access the information it contains without the encryption key.
Consider cloud storage
In many cases, the cloud offers better security than in-house IT hardware and software when it comes to protecting sensitive data.
Consider moving your operations to the cloud to increase your security. If you aren't sure, an IT outsourcing company can help you decide whether the cloud is the best option for you and implement an online backup strategy.
Need IT services for your company in Québec? Contact-us now!
Keep track of the mobile devices you use for work
Although BYOD (Bring Your Own Device) policies have several advantages, they are risky for law firms unless proper security measures are taken. Many firms have sensitive data stolen because they secure their networks and computer systems at the office but are less careful with mobile devices that get used for work.
Every employee and partner who regularly accesses your network or database should take steps to protect their phone, laptop, tablet and any other mobile device they use for work. These devices should always be protected by a strong password and equipped with the appropriate security software, particularly for staff who work remotely.
Educate your staff about the importance of cybersecurity
Don't just assume that all of your employees and partners know how to identify and defend against cybersecurity threats. Create an open dialogue on the subject and keep your colleagues informed in order to avoid accidental user errors and promote best practices in data security.
You should also provide each new hire with up-to-date cybersecurity training.
Make a business continuity plan
Even the most secure law firms remain susceptible to data breaches, disasters and IT equipment failure that can result in the loss of confidential information. Law firms must prepare for the worst by establishing a business continuity plan.
The purpose of a business continuity plan is to maintain essential operations during a crisis, or at least restore them as quickly as possible. The plan is essential in order to handle security breaches in a way that causes the least disruption to business operations.
Lawyers can rely on Groupe SL to protect their sensitive data
Cybersecurity and data protection should be top priorities for legal professionals, because they are in possession of information that must remain confidential. Thankfully, there are many ways law firms can reinforce the security and reliability of their IT infrastructure.
If you are looking for a cybersecurity partner to protect your business from threats that could cause sensitive data leaks, contact our team! We will be able to assess your needs and provide you with customized solutions.