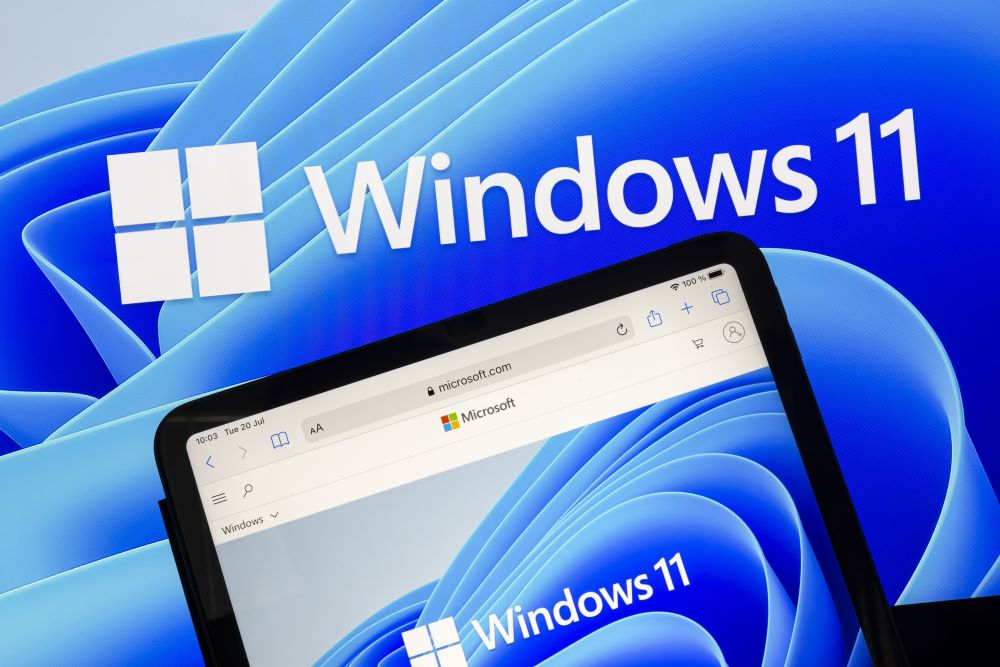 Do you ever get the sense that time is flying by? That's definitely how we felt when we learned that Windows 10 will soon go the way of many other former Windows operating systems (Windows NT, 95, ME, XP, Vista, 7, etc.).  But let's not dwell on the past!
The new Windows 11 has a lot to offer, especially for businesses. In this article, we'll cover what you need to know to get your business ready for the end of Windows 10 and the arrival of Windows 11.
Goodbye, Windows 10
It's official: Windows 10's end-of-life date is October 14, 2025, 10 years after its launch. Microsoft made this clear on its website.
Microsoft will end support for Windows 10 on this date, meaning that they will no longer release updates to fix bugs or security flaws.
If your business currently uses Windows 10, you will need to migrate your IT infrastructure to Windows 11 before this date to continue receiving Microsoft support and updates.
Our specialists in managed IT services can help you migrate your IT without disrupting your day-to-day operations.
Need IT services for your company in Québec? Contact-us now!
Hello, Windows 11
Microsoft has finally unveiled its new Windows 11 operating system, which will be available to the general public in late 2021 and early 2022.
In addition to a sleek design, a reorganized Start Menu and a revamped Taskbar, Windows 11 also comes with a number of new features that businesses and professionals will appreciate.
Windows 11 features make collaborating easier than ever
Windows 11 is optimized for hybrid working, i.e. when employees split their time between home, office and other locations. This new operating system makes remote working easier than ever. New options help users multitask and pick up right where they left off.
These features include a new level of interoperability with the collaboration platform Teams. Windows 11 will already come with Teams installed. Users can launch directly into Teams chats and meetings simply by clicking the dedicated icon in the taskbar. The new system tray will also have an easy-to-access mute button for emergencies.
New features to boost employee productivity
Windows 11 comes packed with new features that increase user productivity. For example, "snap layouts" offer more display options for windows and apps, making multitasking easier than ever.
Snap Groups is another new addition to Windows 11. This feature restores all windows to their previous position when connecting a laptop or tablet to an external monitor.
Improved performance and security
Windows 11 also sets a new standard for performance and security. Businesses can upgrade to this version to maximize productivity while protecting their employees from an ever-growing list of cyber threats.
Microsoft claims that Windows 11 start-up speed is significantly faster than previous versions. Internet browsing is also said to be much faster, and not just on Edge.
Windows 11 is also more energy-efficient, which means longer battery life—a must for employees that are working on the go!
For added protection, Windows 11 comes with built-in cybersecurity features, including hardware-based isolation, encryption and anti-malware software.
Microsoft has also laid out new hardware requirements that are designed to raise the minimum security level on all devices with Windows 11. However, because of these requirements, some older devices may not be eligible for the Windows 11 upgrade.
A revamped Microsoft Store
With the imminent arrival of Windows 11, Microsoft has announced that its store will now offer a much wider range of third-party apps. This can open up new opportunities for small businesses and individual creators.
The new Microsoft Store will also support apps built on any framework, including Win32, .NET, UWP, Java and Progressive Web Apps. You can soon use your favourite apps whenever you want!
Groupe SL will help your business migrate to Windows 11
If the early reports on Windows 11 are any indicator, businesses have a lot to be excited about. The new features make remote working easier and enhance security and usability.
The new OS is available soon! Don't be caught off guard when Windows 10 is phased out. Give your business a competitive edge: Contact us ASAP to discuss upgrading to Windows 11!