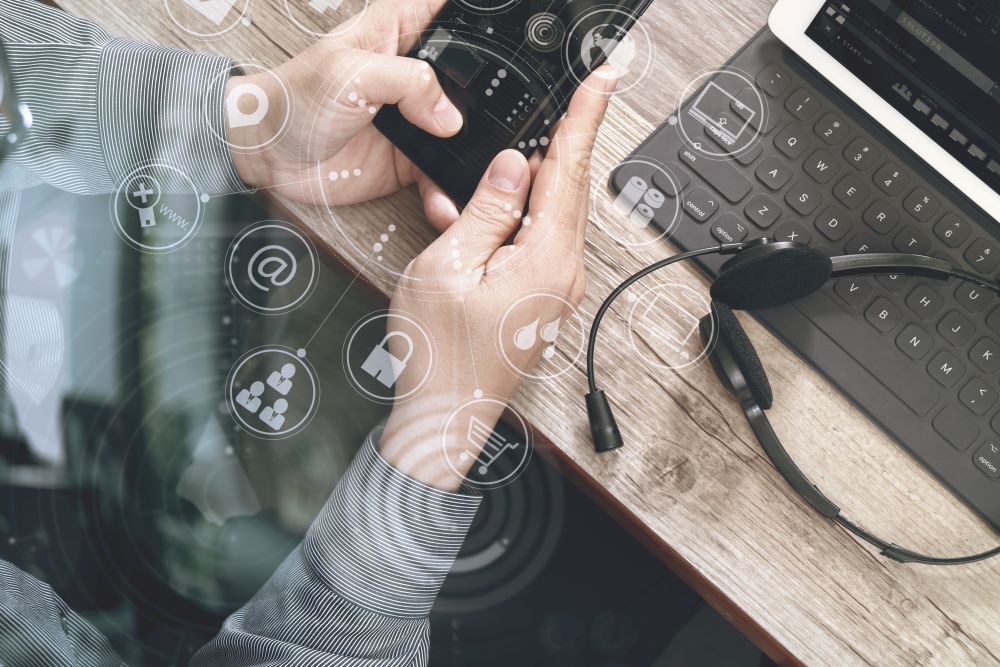 IP telephony is a type of technology that has been around for several years. Though many businesses and even individuals use IP telephony, there are plenty of people who have not heard of it. Does this apply to you?
If so, keep reading! We've written this guide to help you understand what IP telephony is, how it works and why businesses should use it.
What are IP telephony and VoIP?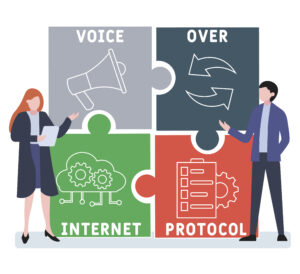 Generally speaking, IP telephony is a communication system based on VoIP (Voice over Internet Protocol). This technology transforms voice into data packets that are then transmitted over the Internet. IP telephony is sometimes referred to as VoIP, hosted telephony or Internet telephony.
IP telephony works over high-speed internet connections, not traditional phone lines. This means you can make calls on a number of different internet-connected devices, e.g. computers, tablets, smart phones, etc.
IP telephony vs. traditional telephony
IP telephony sends packets of data over the internet, allowing you to communicate much more than just voice data. Unlike traditional analog telephony, VoIP allows you to exchange multiple types of information.
As a result, VoIP solutions for business have evolved into cloud-based unified communications services that handle all kinds of communication methods (phone calls, faxes, voicemail, email, web conferences, etc.) This is one reason why many VoIP providers are also cloud-based service providers.
IP telephony: how does it work?
The term "IP phone" may bring to mind a large, bulky device. But remember: virtually any mobile device can act as an IP phone.
IP phones follow a 4-step process:
Your IP phone connects to your switch or router on your local area network (LAN).
When you dial a phone number, your IP phone asks your VoIP service provider to call the other party.
Your VoIP service establishes the call and exchanges data packets from your IP phone.
Your IP phone converts these digital signals back into the sound that you hear
VoIP can thus completely bypass local telephone lines.
Need IT services for your company in Québec? Contact-us now!
IP telephony: main advantages
Switching to IP telephony has many advantages for businesses. Here are just a few important reasons why businesses should use VoIP:
IP telephony saves money
In IP telephony, the voice signal travels over the internet, not through the traditional phone system. VoIP service providers do not have to pay "routing fees" (fees for routing calls over phone lines) and can offer phone packages at a lower price.
In addition, long-distance charges are usually much lower for IP telephony users. This is an obvious advantage for companies that have partners and customers around the world. The packages we offer at Groupe SL include long-distance calls throughout North America at no additional cost.
Finally, since IP telephony eliminates the need for traditional telephones and networks, companies that opt for VoIP avoid buying expensive equipment. You will also save on the cost of maintaining a phone system.
VoIP lets you communicate securely
Security and confidentiality are a top priority for many businesses and organizations. Phone calls can be used to share confidential information or sensitive data, such as credit card numbers and medical or legal records.
Thanks to communication encryption (make sure your provider offers it!), VoIP is safe and secure even when the data packets travel over the internet. IP phone systems have built-in security to prevent other people from tapping into your calls.
IP telephony facilitates remote working
With VoIP, businesses can make room for remote working without sacrificing productivity. For example, there are apps that let you use your smartphone or laptop to answer calls made from a desk phone.
You can also use these apps to call colleagues or clients, participate in conference calls, exchange text messages, record conversations and much more. Either from home or abroad!
VoIP is extremely scalable
Businesses that use VoIP solutions don't have to purchase and install expensive hardware as they expand.  Organizations can add or remove users in a matter of seconds, at no added cost. VoIP also makes moving much easier.
VoIP offers a variety of useful features
VoIP packages can include a wide range of useful features that help companies better serve their customers and partners, including:
911 emergency service
Caller ID
Call forwarding to cell phone
Call queuing
Call recording
Call waiting
Corporate directory
Detailed call report
Hold music
Interactive voice response
Night mode
Receptionist console
Ring group
Virtual conference room
Virtual phone
Voicemail to email
…and much more
These features are included free of charge by some providers, including Groupe SL.
How to switch to IP telephony
Changing from your current analog system to IP telephony is relatively simple. In general, you only need to install a handful of new equipment. Then you can configure the service via a client portal or with the help of your provider.
It's worth noting that VoIP is sometimes compatible with the technology and devices that businesses already use. This compatibility typically relies on a hybrid VoIP system or a hybrid PBX system, which combines the existing telephone equipment with VoIP.
Groupe SL: We know IP telephony!
If you've made it this far, you should now understand the basics of IP telephony. In short: IP telephony is a type of technology that helps you communicate, is easy to install, highly scalable and offers many advantages to its users.
Want to know more about VoIP and how it can help your business succeed? Contact us! Our experts in hosted Cloud solutions can answer any and all of your questions.