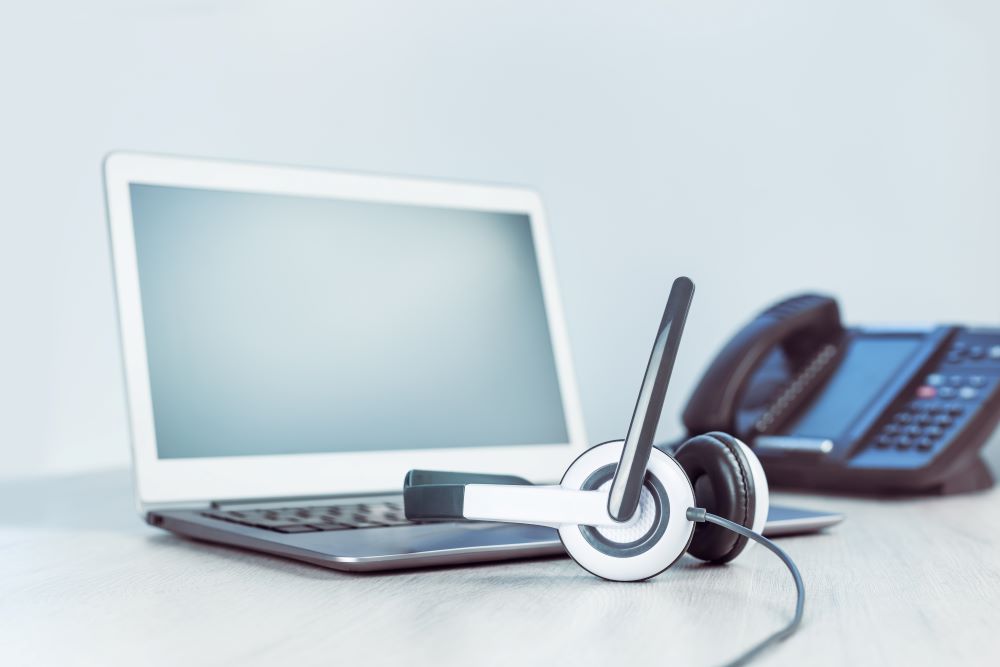 As we enter the 4th industrial revolution of automation and artificial intelligence, it's amazing how many companies are still using antiquated desk phones with outdated analog technology.
Is this true for your organization? Then it's time to ditch your old phones and join the communication revolution! How? By switching to softphones.
In this article, we'll define softphones and go over their main advantages for your business.
What is a softphone?
A softphone is a downloadable app or software that provides a digital phone interface, allowing you to make and receive phone calls over the Internet. It connects directly to your IP phone system.
Softphone interfaces typically resemble a traditional telephone keypad, but can also display other important information like caller ID and call history.
In addition to traditional calling features, softphones also offer you all of the features included in your IP telephony package. These conveniently include video calling, team messaging tools and detailed call records.
A softphone also gives you the ability to access your business phone on your computer, tablet or cell phone. Cloud-based phone system providers offer services that are compatible with most Mac, Microsoft, iOS and Android devices.
How do softphones work?
Softphones use Voice over Internet Protocol (VoIP) technology.
When you make a call with a softphone, When a call is made with a softphone, a Session Initiation Protocol (SIP) server initiates VoIP sessions in real time, and converts analog voice signals to digital signals via the Internet connection. You therefore need a wireless or broadband Internet connection with a router or modem to make and receive softphone calls.
You will also need an internet-connected device (computer, tablet or smartphone), a speaker and a microphone (or a wired/wireless headset with a microphone to replace the speaker and microphone).
Next, simply download the softphone app recommended by your IP telephony provider onto the devices of your choice, follow the basic configuration instructions and voilà! You can start making and receiving calls with your softphone. No need to call IT support to set it up!
Need IT services for your company in Québec? Contact-us now!
Advantages of using a softphone for your business
Now that you understand what softphones are and how they work, let's take a closer look at their main advantages.
Using softphones in your business can give you a competitive advantage in a number of different areas.
1 – Your employees are more mobile
Today, remote work and travel are part of many workers' daily lives.
If your employee has a softphone installed on their smartphone or laptop, they can redirect all voice and video calls from their business phone number to their portable device. They just need an internet connection.
Your employees can more easily respond to urgent calls and communicate better with customers, colleagues and business partners. Not to mention softphones also mean your employees can keep their personal number private and not use their cell phone plan.
2 – You save a lot of money
Saving money is another advantage of using softphones for your business. When you switch to IP telephony and virtual phone services, you will cut back on certain expenses.
For example, many IP telephony packages include free long-distance calls and a host of features that are worth their weight in gold, including:
Caller ID
Call forwarding to cell phone
Call queuing
Call recording
Call waiting
Corporate directory
Detailed call reports
Hold music
Multiple location integration
Night mode
Receptionist console
Ring group
Virtual conference room
Voicemail to email
Plus, with softphones, there's no need to buy or rent phone equipment or deal with cumbersome cables. If you have a computer and an internet connection, you already have all the equipment you need.
3 – You have greater flexibility
Many organizations will appreciate the flexibility and scalability of softphones, especially businesses that are growing rapidly.
With virtual phones, you don't need to rent or buy phones or deal with more wires when you hire new people.
Plus, softphones make relocating much easier.
Ready to switch to softphones? Trust Groupe SL
Now you should understand a bit more about softphones and their advantages! As a business owner, the most important takeaways are that softphones: streamline communication, increase productivity and save you money.
If you want to know more about softphones and how they can contribute to the success of your business, please contact us. Our hosted cloud solutions specialists can answer any and all questions!