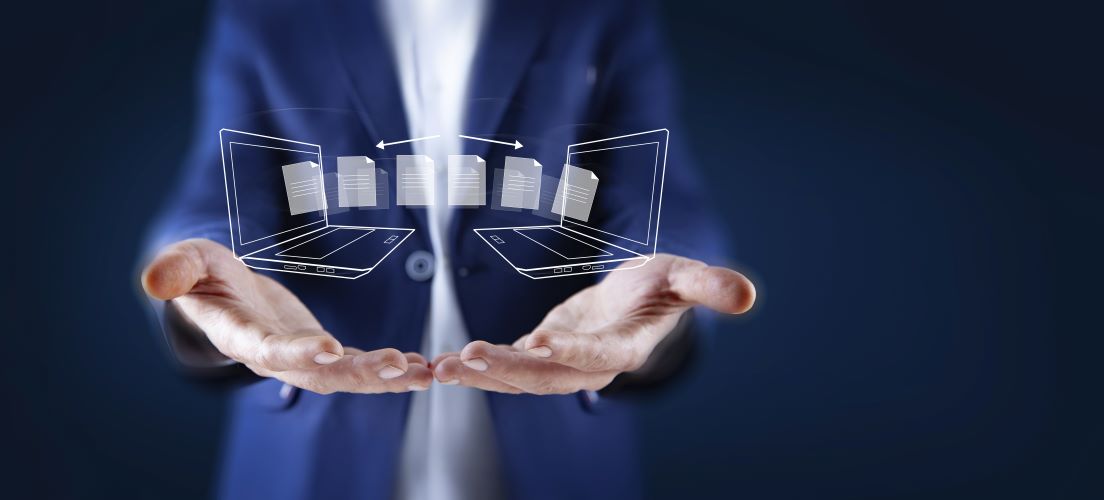 Are you wondering what IT migration is? The short answer is moving data or software from one computer system (source) to another (target).
In this article, Group SL's team of specialists in managed IT services presents the different types of migration that organizations can undergo, as well as the steps to a successful IT migration project.
Types of IT migration
IT migration can take different forms, all with different objectives. Knowing the issues linked to each of them will give you a better understanding of the concept of migration.
Here are the four most common types of enterprise IT migration.
Data migration
Data migration is the movement of data from one storage system to another. It is often done as part of an upgrade to increase storage capacity, improve performance or add new features. For example, in recent years, many companies have moved from on-premises data storage to cloud storage.
Every data migration is unique because the type and amount of data involved varies with each migration. In addition, the timeframe for migration and the cybersecurity strategy will differ depending on the organization whose data is being migrated.
Application migration
In the context of IT migration, an application is the structure in which data is stored. When an organization decides to change its database system, it must transfer all the configurations of the original application as well as its operating systems and management tools.
Here are four examples of application migration approaches:
Rehosting
Refactoring
Replatforming
Removal or replacement
These approaches facilitate the transition from one environment to another without damaging the quality of the data contained therein.
Operating system migration
A migration between operating systems is the movement of a computer system managed with a certain operating system to a different operating system.
This type of migration is useful when a company wants to move to a newer version of its operating system (a new version of Windows for example) or to change its operating system altogether (from Windows to Linux for example).
Those considering a migration between operating systems should be aware that it takes some IT project management expertise to ensure a smooth migration. Changing operating systems can cause downtime, application incompatibility and loss of configuration data.
Cloud migration
Cloud migration is the movement of IT systems located in "traditional" data centers to cloud environments, or from one cloud environment to another.
This type of migration sometimes involves the creation of a hybrid cloud that allows the various applications and data useful to an organization to be spread across multiple IT infrastructures.
In general, moving to hosted cloud solutions allows organizations to take advantage of greater scalability, employee mobility and data security.
Steps to a successful data migration project
Without a clear strategy, a migration process can cause many problems such as costly downtime, corrupted, lost or misplaced files, compatibility issues, and more.
Follow the 7 steps outlined below and the migration of data or applications from a source system to a target system is much more likely to go smoothly.
1 – Identify the format, location and sensitivity of the data to be migrated
Before starting a migration process, it is important to identify the data to be migrated, its format, its location and the format it should be in after migration.
This pre-planning stage is used, among other things, to identify risks that will need to be considered prior to the transfer and to put in place security measures that will need to be taken during the migration of sensitive or confidential data.
2 – Migration project scoping
Once the inventory of data to be moved as part of the migration is completed, it is much easier to estimate the scope of the project and its cost. This step is about defining the scope of the data migration and estimating the resources required to complete it.
As part of this second step, an advanced analysis of the source and target systems and the identification of current operations that will be impacted by the migration is also important. This will help establish flexible timelines for the project.
3 – Backup of all data
Prior to migration, make sure that all the data that will be moved is backed up. If problems occur during the migration (corrupted, incomplete or missing files for example), the error can be corrected by restoring the data to its original state.
4 – Find the staff and IT tools needed for the migration
Data migration can be a complex task, especially when it involves a large number of files or sensitive information. That's why many organizations outsource their data migrations to IT outsourcing companies rather than to their internal IT department.
Before a migration, a company should therefore ask itself if its IT team has the skills, equipment, tools and time to accomplish the project within the given timeframe.
5 – Execution of the migration plan
Once the migration plan has been agreed upon by all project stakeholders, the extraction of all data from the source system to be migrated to the target system can begin. This is the actual migration.
During this step, ensure that the correct system permissions are applied to allow for a successful data migration. It is also recommended to verify that this data is cleaned to protect the target system and then converted to the proper format for transfer. Following this, the cleaned and de-duplicated data should be loaded into the target system's data migration rules and map.
Any data migration should be closely monitored by an IT specialist to identify and resolve any issues that arise.
6 – Test the new system
Once the migration is complete, ensure that there are no connectivity issues between the source and target systems. The goal is to confirm that all migrated data is intact, secure and in the right place. There are various system, volume, web application, batch application and unit tests that can be used to check this.
7 – Monitoring and maintenance
Once the migration is complete, a full system and data quality audit should be performed to validate that everything is in order. If errors such as missing, incomplete or corrupted data are found, simply restore these files from the backup (performed in step 3).
Groupe SL: your best resource for IT migration
In conclusion, regardless of the type of IT migration to be carried out, this process involves risks and requires a great deal of expertise and attention to detail. If you are planning to make changes to your corporate IT infrastructure that involve a migration, you should seek advice from industry experts.
Are you ready to get started? Contact us and we can discuss your needs and propose solutions that are 100% adapted to your organization.