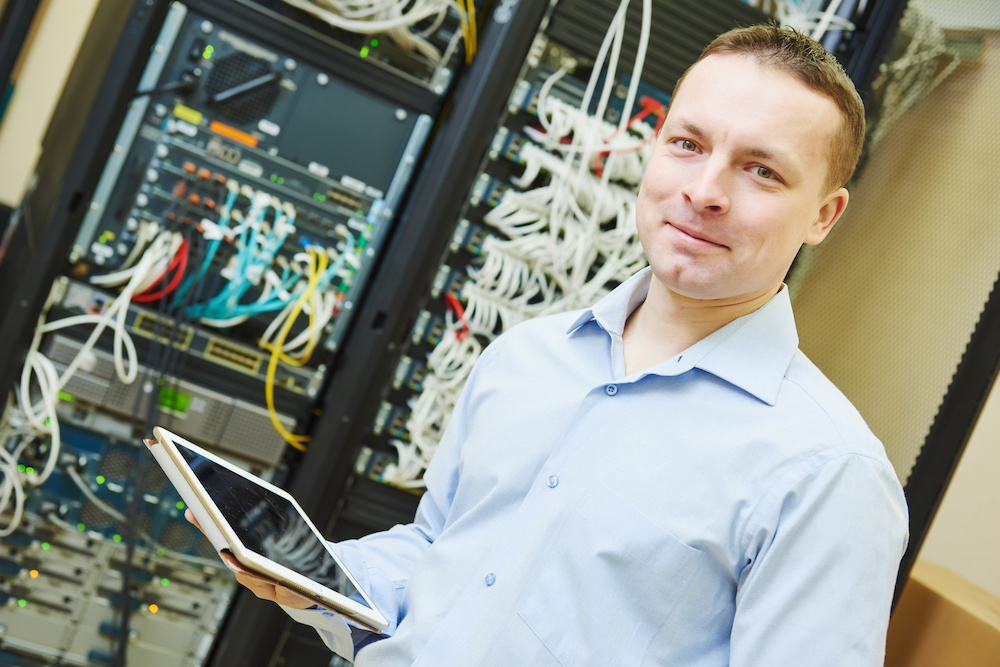 For businesses, computer systems simplify tasks, connect employees, collect essential data and facilitate transactions… as long as they function properly!
To ensure the proper functioning of their technological equipment, many SMEs choose IT maintenance. But do you know what it is?
In this article, our IT infrastructure management specialists will not only explain what IT maintenance is but also outline its many benefits for businesses. Plus, you'll learn how to choose the right IT maintenance provider!
What is IT maintenance?
IT maintenance is a set of actions to ensure that a computer system remains secure and operational, whether on personal computers or company servers.
Within an SME, IT maintenance can be carried out by computer technicians working for the company or by an external firm offering IT outsourcing services.
Note that the maintenance services can be performed on-site or remotely (this is called remote maintenance).
Different types of IT maintenance
The definition of IT maintenance is rather broad and can cover a lot of different actions. Companies offering this service will often divide it into three categories or "types of IT maintenance".
1 – Preventive IT maintenance
Preventive IT maintenance is probably the best known.  As the name suggests, it aims to prevent IT problems before they even occur.
This type of maintenance includes the company's assets assessment, followed by recommendations on what IT equipment should be replaced or upgraded.
2 – Corrective IT maintenance
Despite careful preventive maintenance, it is almost impossible to avoid all computer-related problems. That's why corrective maintenance is required. Its purpose is to correct problems whenever they appear, through repairs or troubleshooting.
Whereas repairs extend the life of IT tools and devices, troubleshooting is more of a temporary solution allowing the use of damaged equipment until it is fixed or replaced.
3 – Evolutionary IT maintenance
Evolutionary maintenance, unlike the other two types of maintenance, is not about preventing or fixing problems but letting companies' IT systems advance to outperform their competition.
Evolutionary maintenance may consist of purchasing advanced computer equipment, or upgrading or migrating software to boost productivity.
Examples of actions included in an IT maintenance plan
When an SME signs an IT maintenance contract with an IT management service provider, there should be several actions to be carried out at different times. These regular operations will vary depending on the computer equipment used by the SME.
These usually include:
Management of computer anomalies, incidents and crashes
Archiving old folders, deleting duplicate files and managing online backups
Hardware and software component configuration to optimize their efficiency
The development of rules to ensure the proper functioning of the IT system
Management of user accounts, data access and network connections
The implementation of protections and computer security systems
Software migrations, system and software updates
The development of new features that increase productivity
Ensuring system compliance with current regulations (Privacy Act, GDPR, etc.)
Benefits of IT maintenance
While it's interesting to know what an IT maintenance package includes, business executives may be more interested in the benefits of subscribing to this service.
Here are the two most important ones.
Increased productivity
Although computer hardware has evolved significantly over the past few decades, it can still suffer breakdowns. These can result in significant downtime and affect company productivity.
IT maintenance helps prevent computer crashes while offering strategic IT services and plans for rapid resumption of operations in case of a computer system glitch. This service can also include the development of applications and software to facilitate certain tasks, corporate technical support, and the teaching of the best practices for computer resource use.
Moreover, IT maintenance specialists can increase equipment performance by eliminating duplicate files, unnecessary folders and outdated programs.
Improved IT security
Companies can be the target of cyberattacks that threaten not only the proper functioning of their computer equipment, but also confidential information about their operations, business partners and customers. Efficient IT maintenance will quickly detect any security flaws that cybercriminals could exploit and ensure that protections (antivirus, firewalls, etc.) are up to date and effective.
More and more countries and organizations are requiring companies to adopt high security standards to protect the personal data of their customers kept on their systems. Relying on experts who are familiar with the regulations and the actions necessary to comply with them is therefore important.
Need IT services for your company in Québec? Contact-us now!
How to choose your IT maintenance provider
To take advantage of the above-mentioned benefits, you need to choose the right IT maintenance provider. Here are a few things to consider when choosing one.
Strong understanding of your challenges
A good IT maintenance provider must listen to the particular needs of its clients and provide adequate services. Cybersecurity and accessibility may be a priority for law firms, while high availability and data backup for other sectors.
A precise audit
Most companies offering IT maintenance will begin their work with an IT audit. This audit can include several aspects, like an IT security audit, equipment, and software assessment, and may even identify issues requiring urgent resolution.
Services included
Computer maintenance includes different types of interventions. Commonly, maintenance companies cannot intervene in all situations. Be sure you are dealing with an IT service provider that offers the full range of services you are interested in.
The price
You may have already established your company's IT budget. Then feel free to compare prices between the different packages offered by various providers to suit your needs. Of course, price is not the only thing that counts, so make sure to check out all the quotes.
Make Groupe SL your dedicated IT outsourcing partner
You now know more about what IT maintenance is and why it is beneficial to SMEs who make it a priority.
If your company does not have the skills and resources required to ensure proper IT maintenance, Groupe SL is there for you! As leaders in the implementation of technological solutions, we will protect your assets and add value to your SME.